←
Return to the Agenda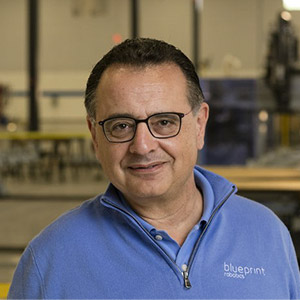 Karim Sahyoun
---
Founder and Director
Blueprint Robotics, Inc.

While visiting friends in Germany Karim was exposed to the extraordinary painlessness and quality of German offsite building techniques. Recognizing that the US was the largest wood frame building market in the world, Karim spent a year trying to understand why these technologies and methodologies had never successfully penetrated the US market. His evaluation of the market led him to the conclusion that a real vacuum existed in North America and that a substantial opportunity existed. He also recognized that to execute on that opportunity he would need a world-class team and an extremely prescient investor.
Partnering with Jerry Smalley and Sascha Bopp obtained funding from the Invus Group in March 2015. Based in Baltimore, MD and operating out of a new 200,000 sq. ft. facility near the port of Baltimore, Blueprint Robotics began operating in late November 2016.
Post-funding, Karim's primary focus has been developing relationships with key suppliers, ones able to understand the company's vision, share its commitment to innovation, and willing to work with Blueprint Robotics as strategic partners.
Prior to Blueprint Robotics, Karim had spent nearly 25 years at Lochridge & Company, a Boston‐based consulting firm, one year as AVP Finance of Libexim SA, a large shipping and trading group, and three years as a loan officer with Chemical Bank in New York.
Karim earned a BA in Economics from Trinity College, Hartford, CT and an MBA from the Wharton School of the University of Pennsylvania. He is fluent in English and French.
Breakout Presentation Topic:
It Takes A Village…To Launch A New Industryd
Over the next several decades, technology-driven offsite construction (TDOC) has the potential to completely dominate the North American wood-based construction sector. Several factors are driving this long-awaited revolution. Of these, the critical shortage of skilled labor is the most frequently discussed. Less discussed are the needs to create housing that is more energy efficient, more affordable, as well as the need to reduce ridiculously high material waste rates. The least discussed but perhaps the most important driver of all is the huge amount of institutional money now eager to invest in an industry that it historically ignored.As Blueprint Robotics has learned, transforming TDOC's potential into reality requires far more than just investment dollars. It requires the creation of win-win partnerships stretching from the owners, architects, and GCs, through material suppliers, third party engineering and inspection providers, to in-house engineering, production and install, to shipping suppliers, and fellow sub-contractors.