Lift-off for Mass Timber
Mass Timber Projects In Design*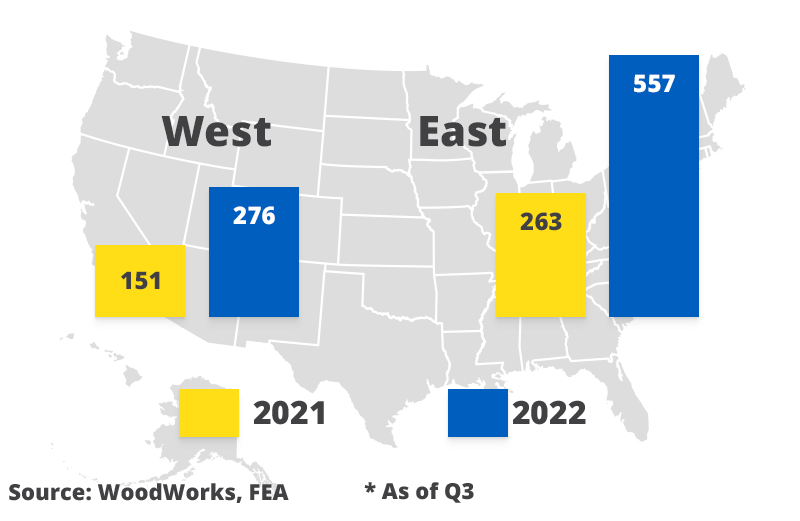 Despite challenging economic conditions in 2022, demand for mass timber is surging, with exponential growth in the East, driven by a confluence of factors including ESG and the ever-mounting urgency to reduce embodied carbon emissions.
How do we get to net
carbon zero?
Industrialized Wood-Based Construction

IWBC is where wood-based offsite construction's suppliers, buyers and specifiers meet to explore opportunities, exchange ideas and introduce technologies to move this industry forward. Opportunities and advancements in integrated, offsite, wood-based manufacturing explained by the experts.
Offsite's rise since IWBC's 2018 launch
In the words of McKinsey, "Industrialized construction is reshaping the world's largest ecosystem." Along with other big shifts, it's forcing a reimagining of an enormous legacy industry that has seen scant disruption in more than a century.

What's driving this new epoch
The move to industrialized construction is being propelled by the growing housing shortage, the ever-increasing scarcity of skilled labor and by the urgent need to reduce embodied carbon emissions. It is being enabled by technological innovations in building materials, design and manufacturing software. The future holds boundless creative possibilities and we are seeing significant new investments by large players like Google, Walmart and Wall Street.
Construction is changing for the better
IWBC 2023 is an absolute must-attend for anyone connected to the commercial, industrial or residential construction industries. Industrialized construction's surge, powered in part by a new ESG (environmental, social and governance) ethos among business and investors, is an opportunity without equal. If you've been dwelling on the edges of this revolution, now is the time to join it, push it and profit by it.